So I did a pretty good job of doing one of these Fibre Notes once a month… up until August. That's when we started looking for a house, and that's when literally all ability to focus on anything else was zapped. It was our first home purchasing experience (hopefully last, but at the very least, last for a very, very long time), and I had no idea how draining it was – emotionally more than anything. And then the stress of inspections, and closing deals, etc. Who KNEW?! I certainly didn't.
But once it was done we were so happy, and are elated to be where we are now. We have room and ownership of our space, and when people are like "remember 2020?" that will honestly be what I remember most. Yes, more than anything else.
There were also ups and downs – we lost our beautiful dog Nicky, who was extremely old and had a really good long life. It was terrible and I still miss her deeply, but knowing she lived such a good, long life (she was 17!) is comforting.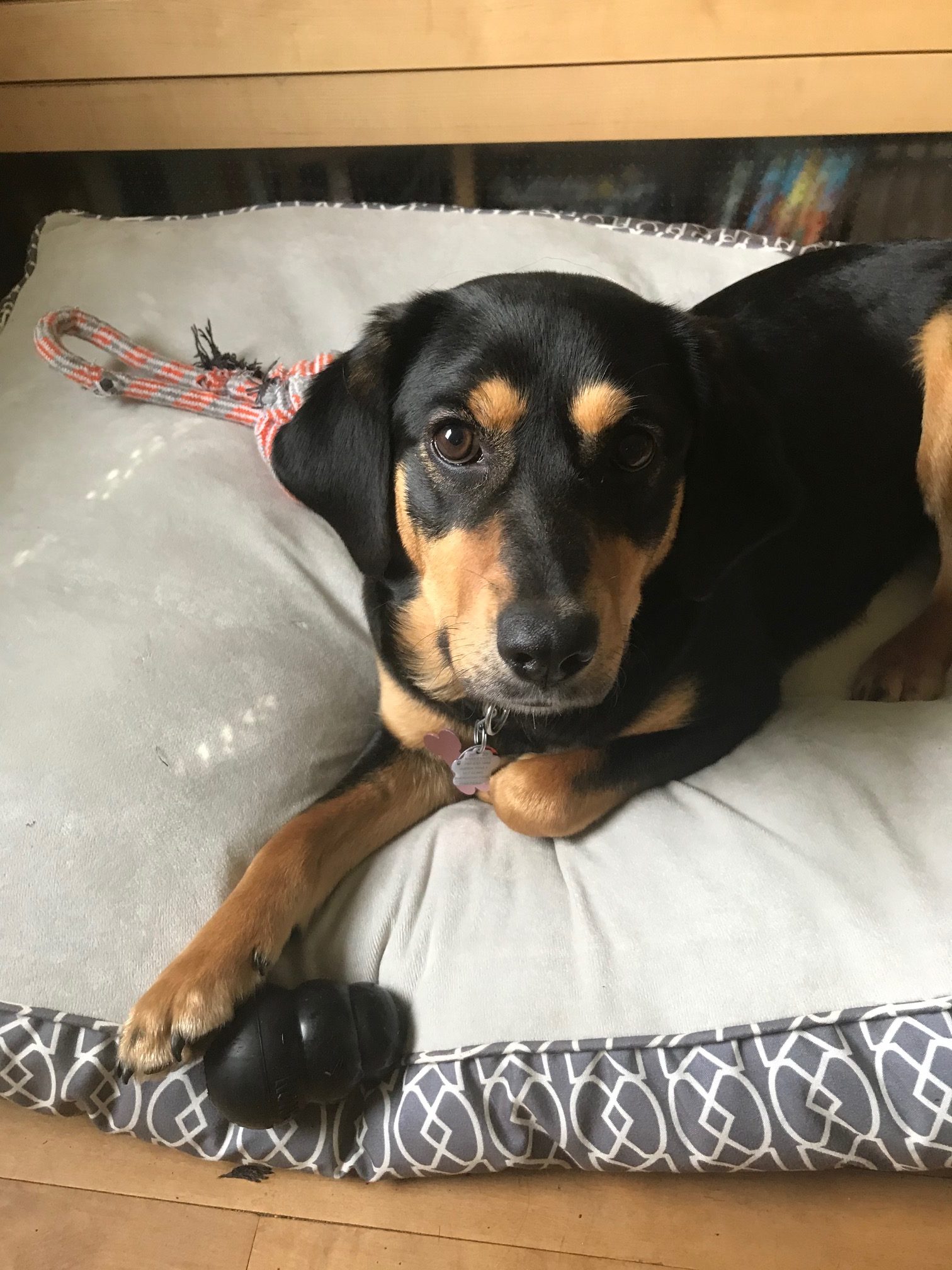 And we found our new girl, Laika, who is the polar opposite of Nicky personality wise, and such a spitfire. We had started slowly looking for a new dog, and the rescue matched her up with us and they couldn't have picked a better girl. She came from the rescue named Deena, but being space exploration nuts, we renamed her to Laika, which she took to immediately surprisingly enough.
In fibre news things looked a bit different – I wasn't able to make my annual farm rounds to pick up fleeces, but I did get a windfall of Cheviot which led to my first mill spinning experience.
My yearly fleece-to-sweater project had a few bumps along the way, but totally ended up working out in the end (even if not for their original project ideas). More on both of those below.
I discovered I actually really like making boucle yarn, which is so atypical for non-art yarn me. And I've become hell-bent on learning how to make the perfect cabled yarn. I also made my first tweed yarn, which I friggin love and need to make a really big project out of.
2020 also took my natural dyeing to the next level. I've been experimenting and learning for a few years now, but I really ramped it up this year, and I'm starting to feel very comfortable with my system, and being able to create and predict colours that I'm aiming for. Plus moving into a new house has now given me the space to have a proper set up, and that has given me a boost as well.
This year I learned to love the drop spindle after getting a proper one that I jived with. I will always primarily be a wheel spinner, but my Turkish drop spindle I got from CraftyJaks has really gotten me to appreciate that form of spinning as well.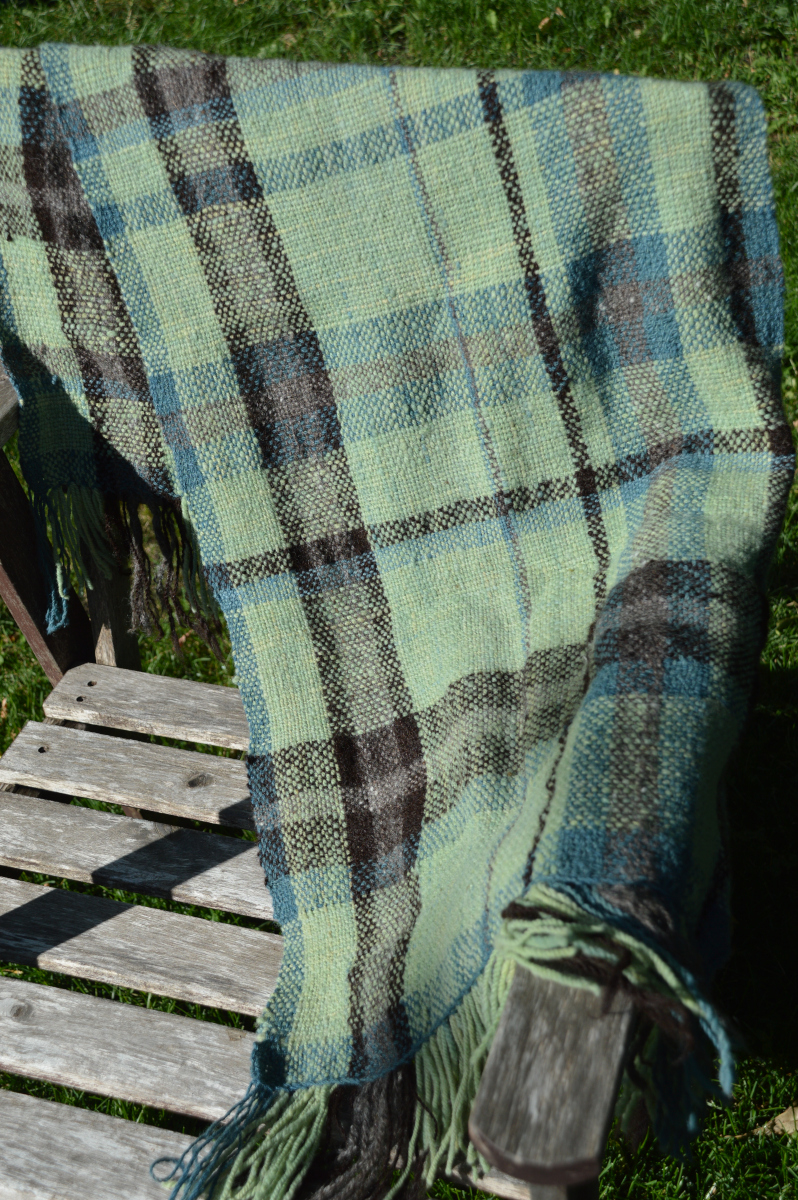 And I made an epic weaving project, with enough yarn for another. I absolutely love using up things that have been sitting around, or scraps. So this weaving project felt really, really good. Sitting outside on a warm summer day and just working slowly on this project was fantastic.
But that's all a bit of re-hash isn't it? What about September to December? What have you been working away, and not sharing with us, you ask? Well read on, because I do have a few things to share with you.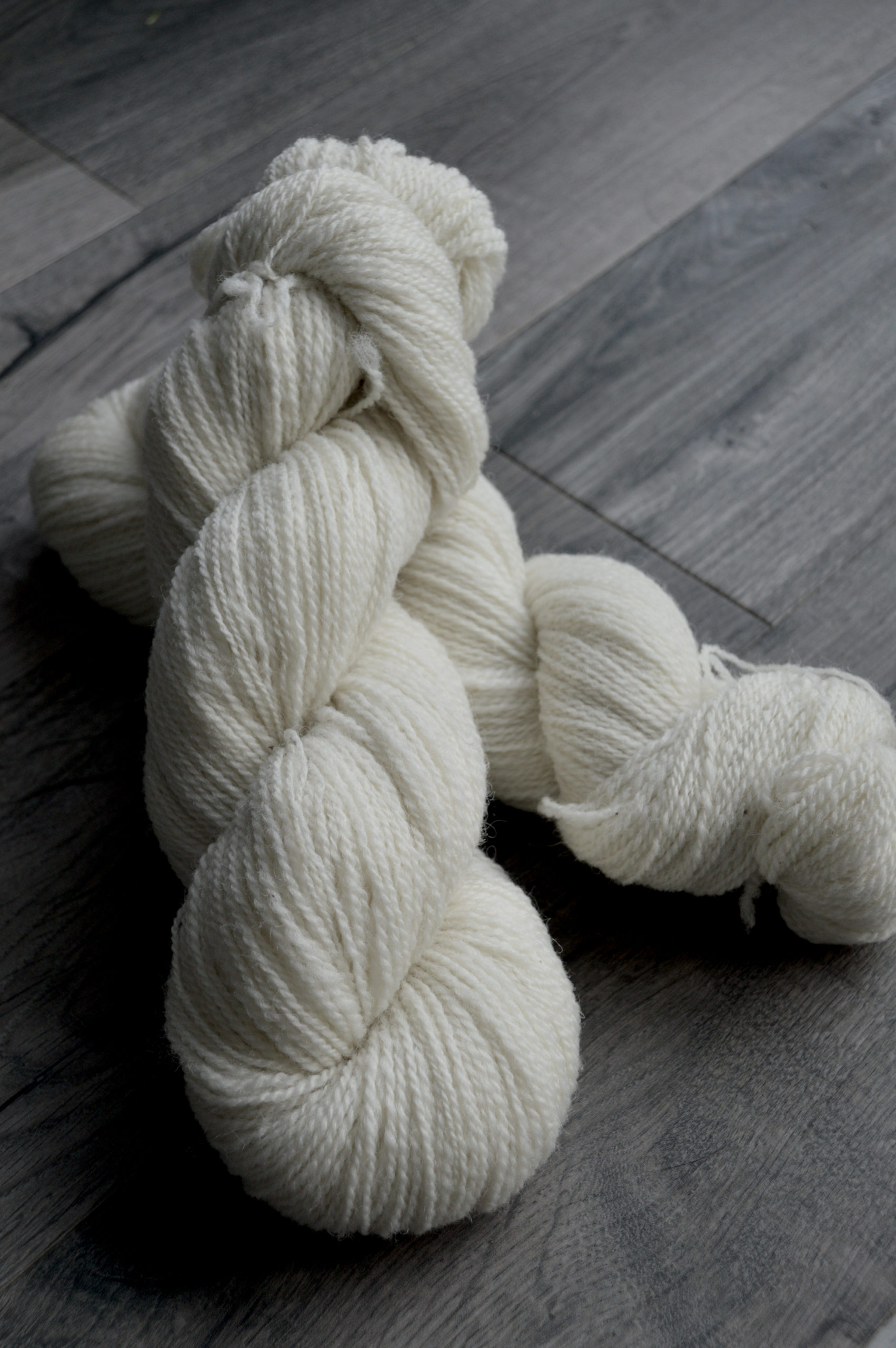 Mill Spun Cheviot
I talked a few times over the past several months about the windfall of Cheviot I came into from a local producer. When I came into that much of it, I knew I finally had the opportunity to get some yarn and roving carded and spun at a mill. I chose Rosebud River Fibre Mill, and what an awesome experience it was from start to finish. Alex was able to finish up my yarn and roving a bit a head of schedule, at and the end of November she sent the finished product to me – 7+ lbs of 2 ply sport weight yarn, and 2+ lbs of roving.
It is wonderful, I just want to stand there and squish it constantly. Being Cheviot it has a lovely bounce, and it has strength and tooth. I've made no bones in the past about what a love I have for Cheviot wool, and I'm so excited to work with this yarn. I have plans to make The Oa by Kate Davies out of it for myself in 2021. I'll be naturally dyeing many skeins, along with leaving some natural, and then I'll list a goodly amount in the shop. That will be listed along with the smaller quantity of wool I was able to get this year (but that's for another post!).
I really, really look forward to being able to offer a small selection of 100% Alberta grown and manufactured yarn every year. It won't always be the same breed, it'll rather depend on the year and how much I can get of what. But it's an exciting project I've wanted to do for years and I'm so happy that 2020 gave me my first opportunity to do it.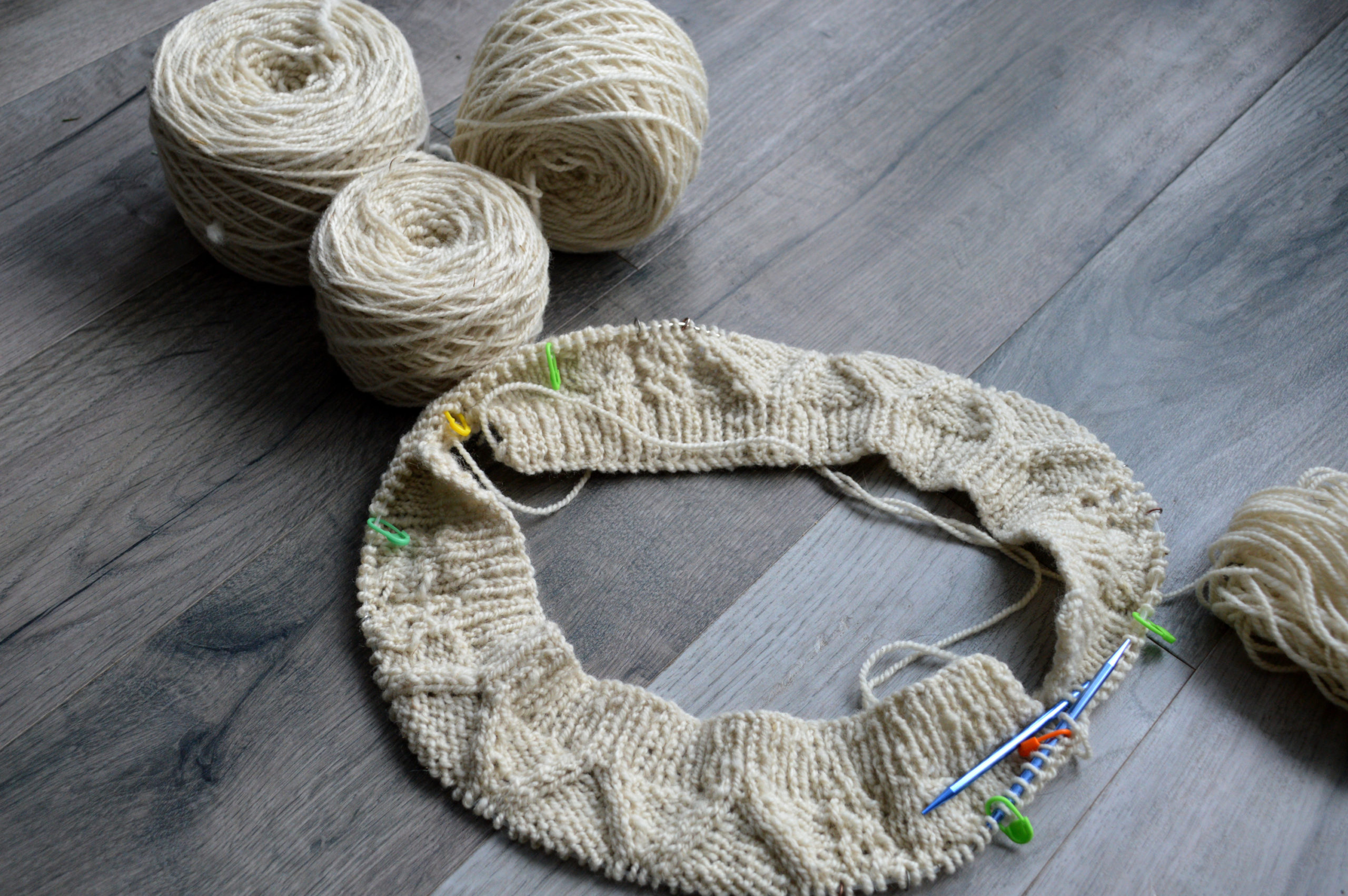 TdF 2.0 & The Tunis Sweater
I've spoken before about my yearly hand spun sweater project. I take a whole year to work a sweater from raw to finished using Alberta produced fibres. I get the fleece raw then wash, prep, spin, and knit a sweater all within that year. It's a slow project that I really cherish (you can read more of my process here and here).
I am actually still knitting this sweater as we speak, and once I'm done I'll have a whole post written up about specifically this project. Normally I get a fleece, spin, and knit. That makes it sound relatively simple, but what I mean to say is, there isn't a lot of guess work, or re-doing of things. This year there was, and I want to go over that specifically in another post, because it's so important to understand there are stumbles along the way in our projects. Sometimes you have to pivot because everything doesn't work out as planned (even if it has in the past).
Having said that, I am now happily working away on my sweater. I'm not using a pattern per se, although I am using a CustomFit template, combined with my own cable charts. One thing I knew I wanted to do with this Tunis was keep it its natural, beautiful creamy white. But what I didn't want was a big old WHITE garment that I'd undoubtedly slop all over, so I incorporated lots of cables to make an Aran-style sweater.
Sewing
Okay, so this blog is primarily about wool (or camelid) goodness. Getting it, creating with it, having finished items from it. But this year as been a really big sewing year for me. Something I never, ever thought I'd do is get into quilting. But trying out quilting spoke to me this year – primarily in the form of The Snapshot quilt from the very excellent The Modern Natural Dyer by Kristine Vejar. I not only made one of these quilts, I made two. This absolutely spurred something in me, and I went down a rabbit hole and found a host of people that make absolutely stunning quilts from naturally dyed fabrics.
This flowed nicely into my desire to learn more about naturally dyeing cellulose fibres, without having the finished fabric kind of sitting around. Quilting came from that because I ended up absolutely loving the piecing process, and quickly started making blocks.
Dyeing cellulose fibres is a different beast than protein fibres (which are more forgiving and require less steps). Marrying that and quilting is something I look forward to working on a lot in 2021. While this blog is primarily about the aforementioned wool and spinning, I will be incorporating my natural dyeing of cellulose fibres and whats made of them more in this blog next year.
I also look forward to incorporating Alberta wool into my quilting next year. Custom Woolen Mills – a large mill about 2.5 hrs south of me – makes quilting batts. While having cotton batting is fun and easy, I really want to make warm, squishy quilts you can snuggle under come winter. I hope to make at least one quilt using wool batting from the mill next year.
2021 Is Calling…
I don't make life resolutions come the new year. I've said it here before, if life changes are required, waiting for an arbitrary date to start them isn't required. What I do like to do, however, is plan some projects for the coming year.
And I have lots of plans.
Not only do I have plans to get all the stuff I've been holding onto for the shop up and running in the first quarter, but I have personal projects I'm looking forward to as well.
The dye pots are going to be in overdrive the next several weeks – while I scour, mordant, and dye the Cheviot to get it in the shop.
As I mentioned earlier, I'm also going to make The Oa by Kate Davies, dyeing the main contrast colour with indigo, and the secondary contrast colour with madder.
I have a vest to knit from my hand spun Icelandic/BFL/alpaca yarn I spun during the first Tour de Fleece this year. It'll be a fairly simple affair – ribbed hems and straight stockinette body (it'll be nice to have something more mindless after I'm done my Tunis sweater).
Once I get my supplies for cellulose dyeing (namely the tannins I'll need) I'll be diving headlong into that, and begin working on some naturally dyed quilting projects.
And, honestly, I'd like to pick 51 Yarns back up – it completely languished earlier in the year, and I'm hell bent on finishing that by the end of 2021 (hopefully sooner, but I'd like to avoid making it feel like work, so I'm giving myself lots of time).
2020 was an interesting year (to say the least). It will be even more interesting, I think, to see what 2021 brings us.