Anybody else have a really busy July and August? When we bought the house we knew there were some things that needed to be dealt with. Some things could be done in the winter, but others we had to wait until summer. Mostly some basic landscaping, but also getting rid of several large weed maples (AKA Manitoba Maples, AKA my nemesis). See, Manitoba Maples might be great if you have acres of property and need a wind break. They spread like CRAZY, and grow 6-8 ft a year easily. What they are not good for is smaller urban yards, especially when the previous owners let them grow for 10-15 years without even trimming them. They will absolutely fall down and ruin your fence, windows, roof, and hopefully not somebody unlucky enough to be under one at the time. Also, this is the prairies and thunder storms with strong winds are a regular occurrence. These things are made to come down.
I have some very strong feelings about Manitoba Maples.
Anyway, we had to take down five, plus trim some other trees. I've been doing what I can in terms of the landscaping, but for 40 ft trees, you do need to bring in the professionals (who, by the way, have as strong feelings as I do about these maples).
Then our dryer unexpectedly broke. Which isn't something we have to "do" so much as deal with, but cripes dryers are expensive now, aren't they?
Anyhow, all that to say July and August has been a bit busy with those things plus all the other regular type things we have to catch up on. It's been a bit of a slower two-months for making stuff which is why I ended up combining July and August. I finished up some bigger projects (the quilt!), plus Tour de Fleece which took up all my spinning time, and the systematic natural dye study I've been doing.

Spinning – Tour de Fleece
Normally for Tour de Fleece I spin a whole fleece that I've acquired at some point in the previous months. With COVID still throwing things into slight disarray, I didn't do my farm trips as normal. But, I did have my roving spun at Rosebud River Fibre Mill, and that's what I decided to spin. I didn't go as crazy this year – usually I do a whole sweater's worth (somewhere in the realm of 1000-1200 yds of sport or DK weight), but this year I did about half my norm. It was quite hot for the majority of TdF, and spinning just wasn't on the docket while temperatures were in the mid to high 30Cs.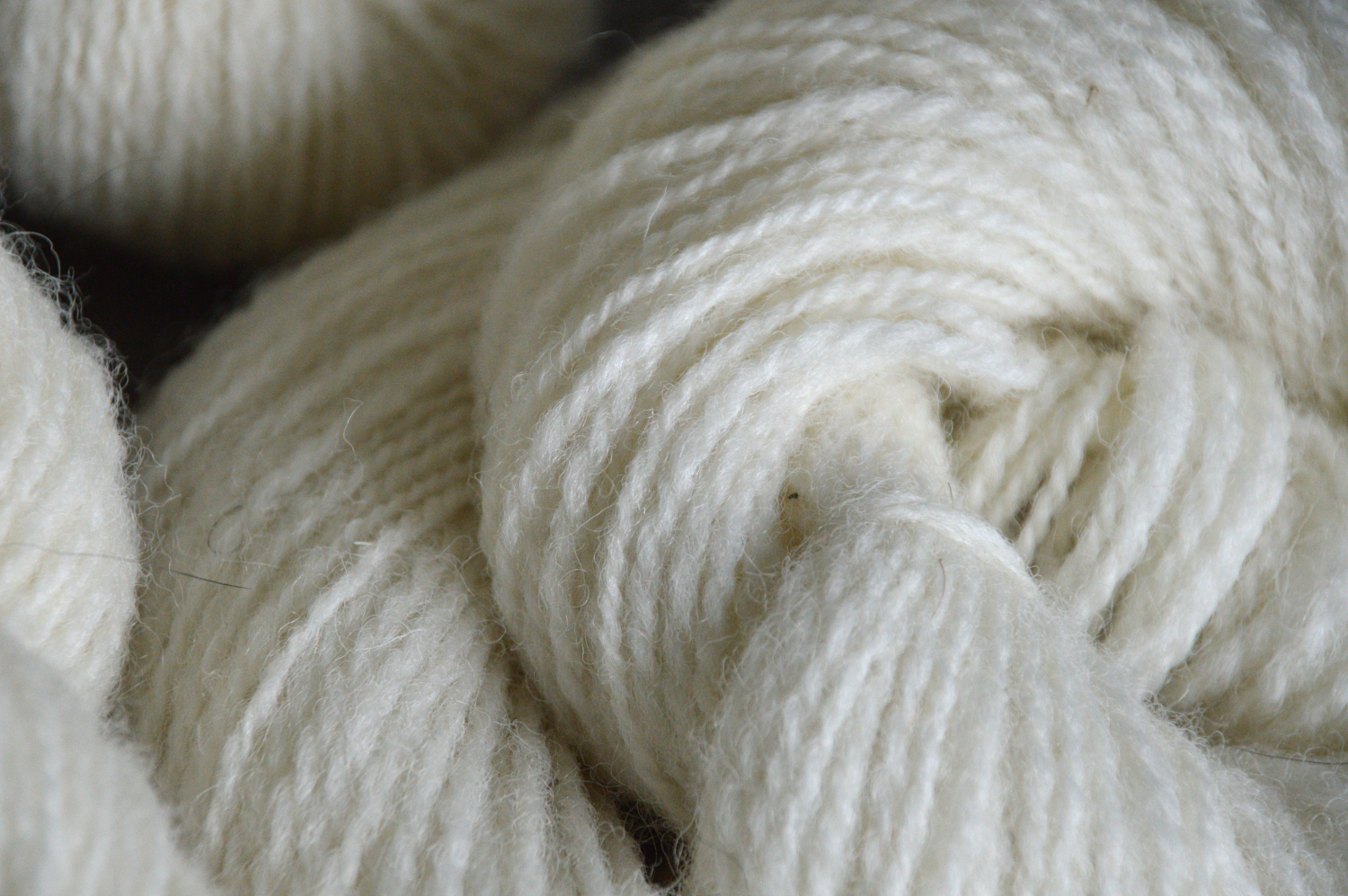 All in all I got about 625 yds of 2 ply DK weight North Country Cheviot. Keeping on with my woollen spinning kick, I did this yarn long draw, spun the singles at about 4 TPI, and plied the same. I spun the yarn at about 26 WPI, and you'd think that'd give me a resulting 2 ply of about 16 WPI, but you'd be wrong. I knew this yarn would poof, and it did – so in the end I had about 11 WPI for the finished yarn, which I soaked and snapped.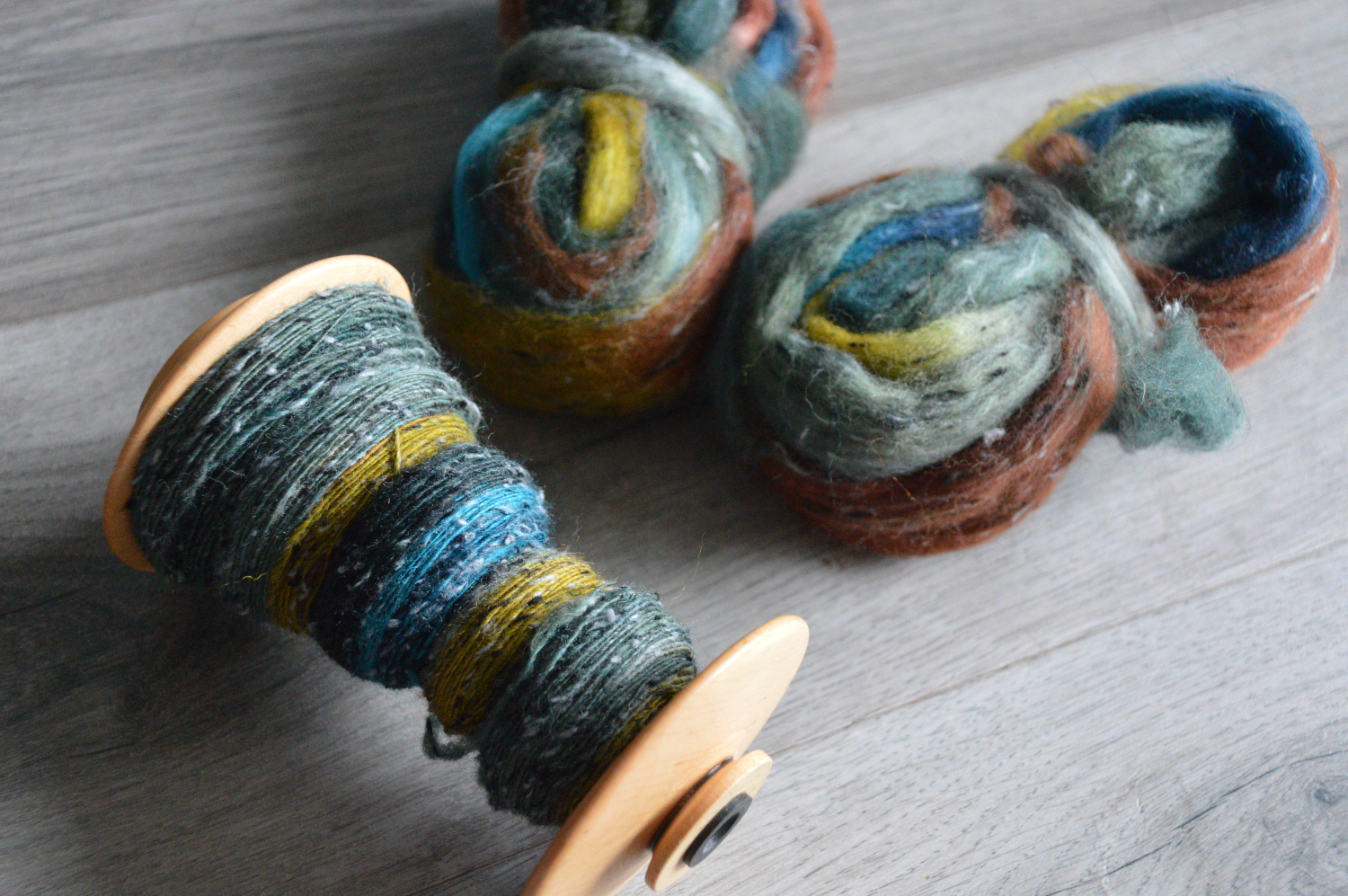 Spinning – Everything Else
I started a new spin, using my Starry Night tweed from Craft Jaks. I have ultimate plans to weave these into yardage for cushions, and to really get a nice effect (or at least, a nice effect in my head, we'll see if it comes to fruition), I'm spinning a 3-ply fractal at about a sport weight.
Weaving
I haven't had a new weaving project to share in a bit, but I'm glad I do now. Much like my yardage I wove last year, I decided to do another with the amalgamation of hand spun I had laying around. I love using my hand spun like this, taking different weights and textures and throwing them all together in one project that I do not pre-plan at all.
All wools are 100% Canadian, most from here in Alberta. All the blues and greens are hand dyed by me, using various treatments of indigo, indigo and osage, and indigo and marigold. All the browns are their natural shades.
For September's Fibre Notes I'll definitely have this piece finished to show off, so stay tuned. I still have my yardage from my other similar weaving, and I'm not sure what I'll do with these, but I'm glad at least they are something.
Natural Dyeing
The great tannin & mordant on cotton experiment continues – most of it in earnest had been done in July. It's been a bit of a marathon, and I've gotten some good, some disappointing, and some really surprising results along the way.

My quest for the perfect red continues, however. Madder is a fickle, tricky plant. On my wools I get a straight up orange with both R. tinctorium (Dyer's Madder) and R. cordifolia (Indian Madder), but if I do cotton in the same pot, that comes out bluer and a more true red. In the very least, I'm more happy with what I got versus my original madder on cotton dye (which is a salmon colour and I was really disappointed in at first, but am happy with now that it's with the indigo and marigold).

I've jotted down a few experiments to try in order to push the madder cooler on my wool. What works for other people to achieve a real proper red with madder does not work for me; I've tried taking out almost all variables that I can think of, but a true madder red on wool has become a bit of a white whale for me.

One thing I have definitely learned with this study is that what applies to wool does not necessarily apply to cotton; never assume anything with natural dyes.

Having said that, I did finally finish my first full-sized, all natural dyed quilt in early August.


I'm immensely proud of this thing, because it's so many firsts for me. First full sized quilt, first fully naturally dyed quilt, first large hand quilted piece. It measures 70 x 79″ – not a "standard" size per se, but it fits nicely on my queen sized bed. I went with wool for the batting, because it's Alberta and it gets cold here.

What's next? I have some smaller quilting projects I'm working on. After a large marathon like this (three months from start to finish, not including the dyeing), it's nice to do a few smaller projects. But I do have my next larger one in the works that I'm already dyeing for; a wall hanging that'll fit right over my bed. Stay tuned for more updates on that over the coming months.