February can be hard. Or at least, it's a hard month here in Central Alberta. We are so close to spring, but it's still cold. And we've been looking at snow for months. And for the love of god, can I just see a little green again?!
You might have guessed, I'm not really a winter person.
I grew up here, moved away, then moved back. So you think I'd have gotten used to it, right? But you'd be wrong. I grit my teeth and bare it because there's nothing else to be done, but I count down the days until March. While March isn't warm yet (and we're still probably at least a month away from even seeing grass start to grow), it is definitely a turn around month where things get warmer, and the snow is visibly melting. And it's at that point where I get really excited about seeing brown grass, and I examine the trees every day to see how much their buds may be forming.
Natural Dyeing
I've been really ramping up my natural dyeing this month. I've been doing all sorts of fun things over the dye pot, like dyeing up skeins of yarn, and testing the waters with some (new to me) dye methods.
First, I wanted to push the boundaries of madder. I took some texel roving from my stash, and dyed it four different ways with madder. This little experiment also served double duty: I'm trying to get more comfortable dying prepped fibre, so this was the perfect experiment for me.
First I took some madder and just did a standard bath: less then 70C heat and no additives. I got the pretty classic red you see here. Then, I went on to push the boundaries. For the three other test baths I went to the limit of what I'd normally do to shift colours. For high heat I pushed it right up to almost boiling (90C), for alkaline I added washing soda to bring the pH to 11, and for the iron I added 5% WOF (as a general rule I don't like to go over 3% lest the iron start breaking down the protein in the wool fibres).
For each bath I used the exact same percentage of dye material to keep that element of each experiment the same. The thing I was most surprised about was the alkaline bath. I was expecting something much more pink (achieved), but the saturation of the dye is much, much less and I'm not entirely sure why. Does the dye bond to the washing soda in the bath? That's about the only reasoning I can make out for the drastic difference in saturation.
Next, I went on a bit of a spree dyeing yarn.
I ended up dyeing 16 skeins with three different plants (madder, marigold, and logwood) to achieve six different colours. I hinted at this in my Fibre Notes last month, and so I guess this is another little teaser. I love working with plant dyes. I love the variation that can be achieved with relatively few plants. I love the way it can be slightly unpredictable, but you still get beautiful colours. I have a source for 100% Canadian grown and milled yarn, and I just may be introducing a very limited selection of 100% Canadian yarns. I will also be vending at the Edmonton Fibre Folic again this year (whee!) where I'll also have a small selection of these yarns for sale.
This is hardly a new venture (I wrote a bit about that in this post) – honestly I just love the act of dyeing with plants, but with the amount of yarn I want to dye I will almost never use it all. So, I'll be offering it to you guys in very limited quantities as I dye them. Come spring and summer I'll also be reviving the indigo vat, so there will be even more colours I'll be playing with.
Hand Spun Knitting
I love to participate in Tour de Fleece – it's a fun experience I look forward to every year. I use it as a good opportunity to spin for a big yearly project. Previous years I used it as an excuse to spin up a sweater quantity, but last year I changed gears just a bit. While I still spun a sweater quantity, I had a specific idea that I wanted to spin for a large, full hap. So, I pulled out a gorgeous Jacob/Shetland cross fleece that had been in my stash for longer than I care to admit (while I waited for the right project idea to strike), and got to work.
I had actually planned to start this knit around Christmas, but was waylaid by my Darkwater hand spun knit (which I had actually spun in 2017!). But, this month I dove in, hell bent to get this hap knitted up before I started Tour de Fleece this year.
I'm knitting this hap in the Victorian method – a centre square on the bias, then picking up along the edges and knitting the borders out. I am positive I don't actually have enough yarn spun for such a large shawl, so I did a bit of a stash dive, and I'm also going to incorporate some Shetland I had spun in 2018. I spun that particular Shetland at a higher ratio than I really should have, so it created a yarn that was a bit denser and not as soft as I wanted, but since I'm just incorporating it into this shawl as an accent I think it'll work. I did put in a life line, however, because that Shetland is a bit thicker than my other yarns (10-11 WPI as opposed to 12-13 WPI). I don't think it'll be a problem, but I'd be real annoyed if it was and I had to rip out without that lifeline there.
I'm not really using a pattern – the construction is easy enough so that I can just kind of wing it. I'm going to use Old Shale as the lace, and then knit on a little edging using that Jacob/Shetland again, or another yarn (we'll see how much I have of each when I get to that point).
I'm a planner for projects naturally, but sometimes it's a fun to throw caution to the wind. I imagine this shawl will be done by the end of March, so I look forward to sharing it with you in next month's Fibre Notes.
51 Yarns
Self-Striping Yarn
I'm not too proud too admit I totally phoned this one in.
You may recognize this colour from two other of my 51 Yarns (corespun and coils). I had a tiny bit left on one bobbin, and thought "perfect, there's self-striping taken care of". So I chain plied this little number to create a very, very small skein (in the realm of 10-12 yards). Chain plying is something I've done a lot before, and since it's one of the (if not the easiest) method of creating a self-striping yarn, it's what I went for. You can of course do this with a more traditional 2- or 3-ply, but that necessitates breaking your singles to keep the colours aligned and I loathe to do that.
Tweed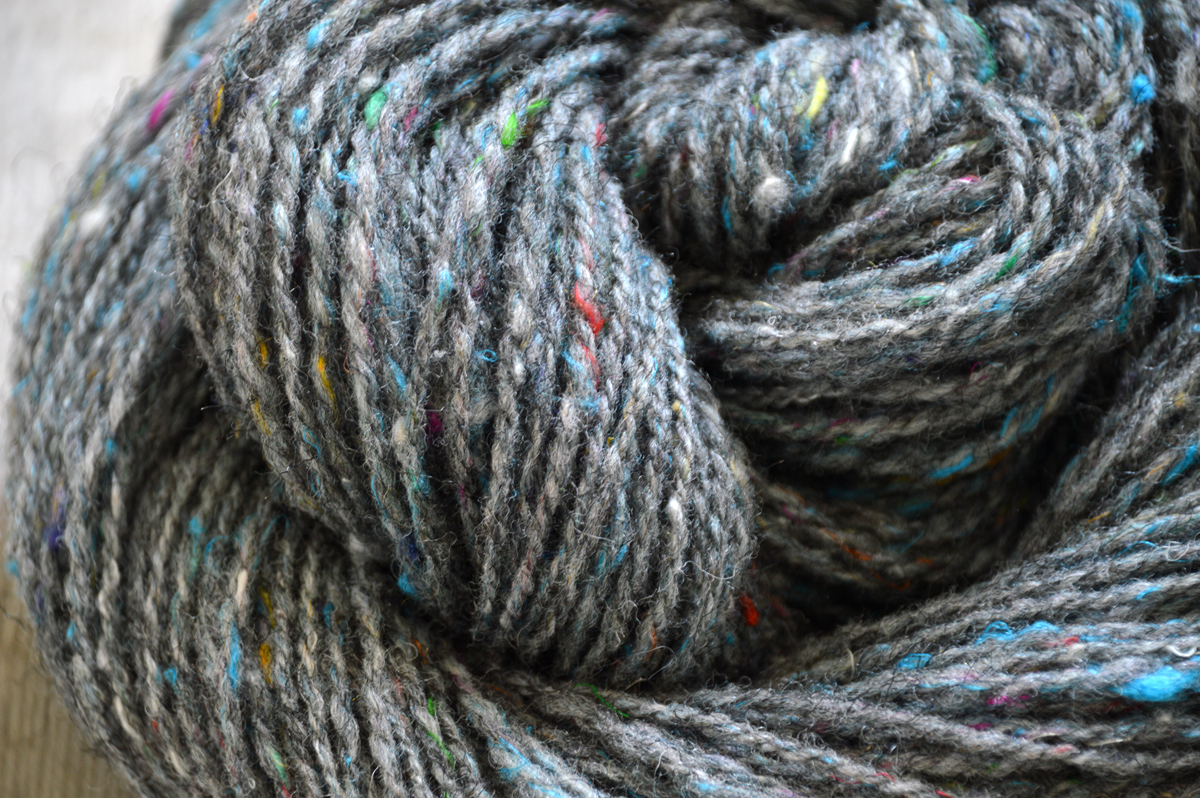 Now this one I most certainly did not phone in. In fact, I've been wanting to make myself a tweed yarn for a long time, but just have never done it. I love tweed yarns though, knitting with them, and the depth they create in a fabric.
As a base I took a 50/50 Black Welsh Mountain/Columbia batt that I had previously made. The batt weighed 50g, and using my friend Becca's rule of 10% tweed material I grabbed 5g of sari silk then proceeded to card that into the batt using my drum carder. To create the effect I stripped the original batt down to strips, carded a bit as a base, then added 2.5g of sari silk, then added another layer of the Black Welsh Mountain/Columbia.
I then took that resulting batt off, which had lumpy, bumpy bits of the silk still in it, and carded that two more times. By the third run through, the silk was evenly distributed and ready to be spun. After that, I stripped the tweed batt down into strips and spun long backward draw.
When I initially took the plied yarn off the wheel it was pretty lifeless, but a soak and good thwacking and it sprung to life. It's bouncy and light, coming in at a finished 2-ply of 11 WPI, and a final TPI of 3.5. I have 45g and about 103 yds coming in at a grist of 1038 ypp – which is actually heavier than I would have thought, which I think can be attributed to the characteristics of the Black Welsh Mountain. It's a disorganized, but crimpy fibre, but is extremely dense in and of itself.
I actually think it'd make an excellent housewears fibre when used by itself – I have visions of hand spun woven matts that will get lots of use. Maybe that little project will be on the docket for sometime this year.