For my inaugural monthly Fibre Notes, January has been all about 51 Yarns (and playing catch up).
51 Yarns is a book written by Jacey Boggs Faulkner, and published by Ply magazine. Beginning in January of 2019 I began an epic spin-a-long with many other folks in the Wool 'N Spinning community. At a rate of 2-3 new yarns a month, we'd work our way through the book, spinning each and every single yarn. While I got a little behind, January has been all about the catch up with spinning up five new samples. Incidentally, all five of these yarn structures were brand new to me, so it's been a month of much learning and trying new things I normally wouldn't.
For all the visual interest of art yarns I'm not one to make them, and that's because I'm not one to use them. It's just not my aesthetic, and since my spinning is mostly centred on making yarns to use for clothing (hats, gloves, sweaters, etc.) and I like to knit things like cables and colourwork, I strive for very consistent, smooth yarns that can take dyeing (if needed). So big textured and/or (purposefully) inconsistent yarn is not something I make.
I had tried tailspinning as part of 51 Yarns in 2019, and to say I did not enjoy it would be an understatement. I don't really have a wheel that's set up for it for starters, but the slow nature and a yarn that's so highly textured (and to me, unusable) was not the funnest of experiences. I'm glad I did it, but I'm also glad I'll never do it again. So, when we came up against boucle and coiled yarns I was a bit reticent.
But first, I'll talk about the two structured yarns, which is much more in line with the kind of yarns I may make again.
5 Ply
I had never made a 5 ply yarn before. It had always seemed like a lot of work for relatively little payoff in terms of hand spinning. I started with about 60 g of lovely Polworth (also a fibre I had never spun up before) and started to work. I did not get much yardage out of this at all – only about 34 yds. I spun my singles at about 21 WPI, and ended up with a yarn about 8 WPI. I'm one of those spinners that finds it much easier to spin fine over bulky, so I can see this being useful if I'm trying to get a truly bulky yarn and don't want to fight my natural inclination to go thin. I spun this short forward from a combed top prep, and I think if I was going to spin a high count ply yarn again, I'd definitely go woollen. This yarn is heavy, weighing in at about 374 ypp.
Another thought is that, to me, it doesn't seem any rounder than a traditional 3 ply, so the additional work of creating those two extra plies (plus the extra wrangling needed to ply them all together) doesn't seem worth it in the long run.
Cable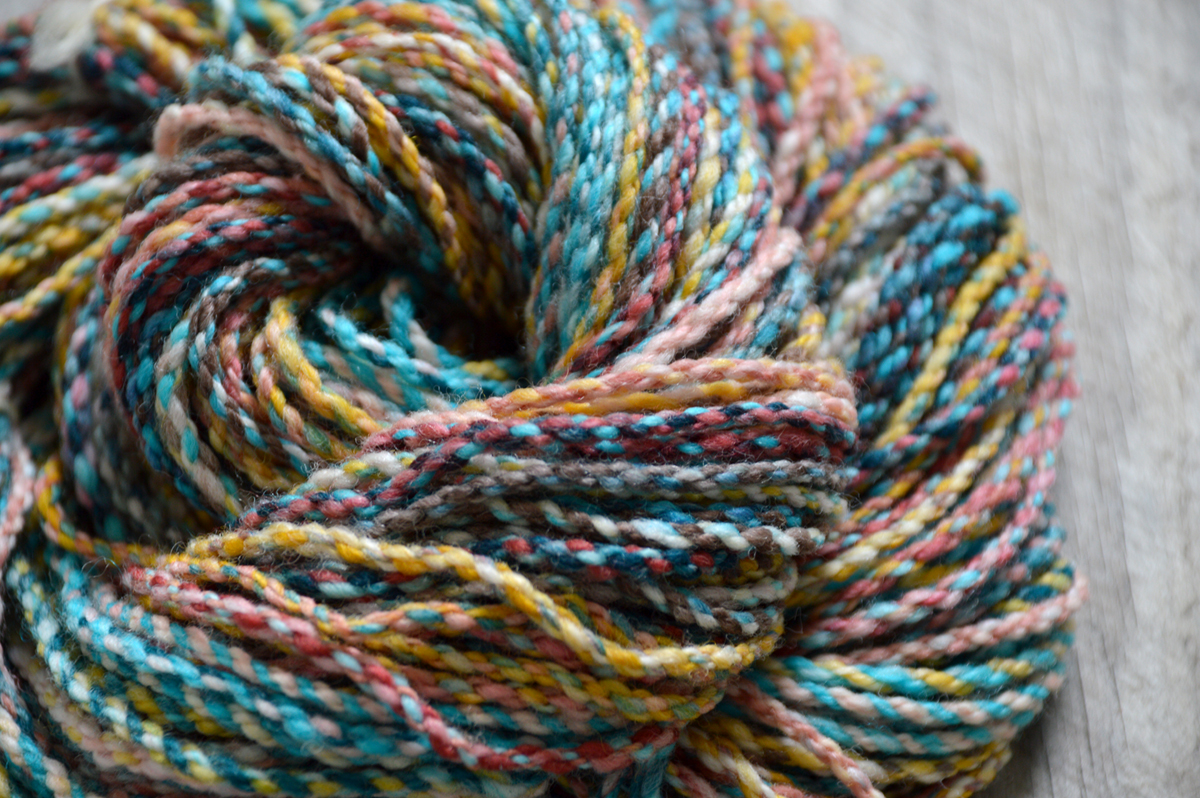 Another structure I had never made before, but as where I was somewhat ambivalent on the 5 ply structure, I freaking love this structure! Sure, there's extra work involved in making the two 2 ply yarns and then plying those together for your 4 ply cabled yarn, but as where the 5 ply felt finicky without the pay off, this cabled yarn blew me out of the water.
I love the over all look of this, and I can definitely see how there would be added strength to the finished yarn since so much of the plies are covered up by the other plies, making them excellent for socks or hard wearing garments. This yarn was made with the same fibre (different dye technique) as the 5 ply, and while I thought the colours would all get lost in each other, instead the cable structure helps them stand out, making this a particularly interesting yarn for multi-coloured fibres.
This cabled yarn is far from perfect. There are sections where I have too much twist in the final 4 ply, so the result is everything kind of smooths down and you lose that cabled effect. But in the sections where my ply is just right it looks perfect. This is absolutely a yarn I want to master and try again and again. My next attempt will probably be a fibre I'm more familiar with so I can eliminate that variable and work more on just getting those ply twists perfect.
Boucle
Ah yes – the foray back into the textured yarns. My feelings were a little tepid on trying this before I began because of the aforementioned tailspinning debacle (seriously, I really did not like making that yarn). The ply twist directions also had me scratching my head a lot and I was nervous about starting only to find I had gone the wrong direction and it'd all be a disaster.
I grabbed about 60 g of some local Finn I had. I chose this Finn specifically because of the incredibly long staple length – a whopping 8″ (20 cm). Then I quizzed others in the Wool 'N Spinning community – most notably Rachel and Rebecca who really were sports about holding my hand and walking me through which way I was plying each step of the way. To say this yarn is out of my comfort zone is truly an understatement. Eventually I just had to buckle down, stop thinking about it, and do it. And I'm so glad I did!
I actually had a blast making this yarn, and I'm quite smitten with the results. I still maintain I'd never knit with this yarn (all those little loops going all which ways seems like a disaster for the needles), but I can see weaving with this yarn easily. Also, it was fun. Once I got over my initial fear and just dove in, I had a really good time with a structure I was completely unfamiliar with but could also be placed in that art yarn category. I can see me making this yarn again, almost as a palette cleanser. After a long spin of worsted and highly consistent yarn, something like this just to play with can be like a breath of fresh air. If you're interested in this yarn yourself, I highly recommend reading Rebecca's blog post where she talks very specifically about direction and weights of fibre needed to make her lovely mohair boucle.
To get a little more technical about this yarn – I spun the core and binder at a higher twist (4 TPI), and the effect yarn (the loops) at about 2 TPI. That's what creates the soft effect in the boucle. If I were to do this again, I'd maybe put a bit more twist in the effect yarn to sharpen up the loops a bit, but the softer loops have a nice effect that's growing on me. The core and binder I also spun thinner – about 22 WPI, while the effect yarn I spun thicker at 12-14 WPI. I'd like to experiment making that difference even greater to see what the resulting yarn looks like – think the core and binder about 32 WPI, while the effect yarn is in the 8 WPI range. I think that'd result in a more "full" looking boucle which would be particularly nice for a weaving.
Corespinning
I feel like the less said about this yarn the better. But I won't do that, because it's all about learning, right?
So I decided to go with a commercial core for this yarn. I picked out a hand-dyed braid of Shetland and kind of just dove in. What I should have done is put a bit more thought into it (so the exact inverse of my problem with the boucle!). The core I chose was Knit Picks Wool of the Andes sport, and while I wouldn't consider that a high twist yarn, it was too high twist for what I was trying to do, especially with the shorter staple length of the Shetland (which was around 2.5-3″). If I had used a long wool, like a BFL or a Gotland or whathaveyou, I could have put less twist in to attach the effect fibre. The other option would have been to take some twist out of the core yarn prior to beginning the spin.
But I didn't do that because:
1. I didn't think to do it; and
2. I wanted a quick and dirty spin.
Lesson learned: even with a "simple" textured yarn, don't cut corners.
What I ended up with was a over twisted core, resulting in an over twisted core spun yarn. I heavily finished it, with a soak, heavy thwacking, and then weighing it down while it dried (something I never do). While it relaxed somewhat, it's still way too energized for my taste. I'm hoping some time skeined up will further relax it.
If I were to try this kind of spinning again (much farther in the future because the sting of the frustration I experienced is still too close) I would either take twist out of the commercial core first or, more likely, just create my own very low spun single to wrap around.
Live and learn, right?
Coils
I had expected to be thoroughly frustrated with this yarn, and much to my surprise, I wasn't! I had reserved most of the braid that I used for my core spun yarn to do the coil yarns with (probably about a 30/70% split). While I won't say this yarn was easy, it certainly resulted in more or less a yarn that I was aiming for, and after the core spinning debacle, that was a nice change of pace.
While I'm not as in love with this as much as the boucle, and I probably won't do it again, I'm confident in saying this yarn is a success.
First I spun my singles, one relatively consistent at about 16 WPI, and the other a thick and thin number. I then jumped into plying. My first little tester was a slight disaster, with my consistent binder single drifting apart as I attempted to create the coils. Fortunately I didn't plow ahead (another lesson learned from my core spun yarn), and instead cut the singles and re-thought. If it was a matter of the binder drifting apart, perhaps more twist would help? So I ran the binder yarn back through the wheel not one, but two times.
Why two times, you ask? Because I didn't want to flip the colour matching quite so dramatically in the plies – I wanted at least a few spots where the colours were matching up, so I put half as much twist in the ply each time as I ran it back through the wheel.
Then I went back to plying. The extra twist helped a lot, although I did experience a few instances of drift. Fortunately there was just enough twist there so I could feel it coming and very carefully ply those sections. That will result in a bit of weakness in those spots, but I'm not planning on yanking this yarn around to hard.
The trickiest part for me was anchoring the coils. To achieve this I lifted up my binder yarn to about 90 degrees and moved the yarn slightly back and forth to kind of make a knot. Some areas over than others I was much more successful, so a few of the coils do move around more than I want. But on the flip side, I'd say a good 75% of the coils are firmly anchored and don't move much (if at all).
Will I try this yarn again? Probably not, even though it wasn't a disaster. Yarns that force me to ply reeeeally slowly aren't my bag, and this is definitely not a yarn you can ply quickly, even with much more skill at it than I have. There's also the perennial reason: I don't really work with textured yarns, so to me, it's not worth it to spend that much time and effort on something I won't use.
All in all I'm glad I did all these textured yarns, and I'm surprised and pleased that I found two (cable and boucle) that I actually enjoyed and may do again. But, I'm also kind of glad to be through this textured yarn section so I can get back to spinning more in my comfort zone.
Natural Dyes
I've been playing quite a bit this month with natural dyes. Since I've been experimenting and learning for over two years now, I feel fairly confident in my abilities. Not only to predict what might come, but in my ability to reproduce colours.
I've been focused on dyeing yarns and cloth for the duration of my learning, so this month I wanted to branch out and try dyeing prepped fibre. I've been playing around with marigold and madder and stretching what I can do with those two dyes alone.
I had a bit of texel in my stash that I wouldn't be too heartbroken about if I didn't like the colours – this was commercially prepped fibre that I had acquired a few years ago that had a lot of VM in it. So I played with dyeing, and over dyeing. Much to my chagrin I might have partially fulled one of my testers, but I'm going to see if running it through the drum carder might improve matters (it may not, in which case, I learned a great deal about mixing these two dyes, which will serve me well in the future).
I have additional plans going into February to play more with madder and heat, pH, and afterbaths. I love that this particular dye is so diverse with just a few changes to the dyeing procedure, and that's something in particular I want to explore. I don't have any photos for you right now, but stay tuned for February's Fibre Notes where I'll talk at length about what I've been doing and the results.
This level of experimentation is so my bag, changing one element in each subsequent test. My dye notebook is not-so-slowly filling up with samples and notes. As a bit of a teaser, this all relates back to the shop and some plans I have for small runs of things. I'll update more as I get closer to announcing but, needless to say, I'm pretty excited.