The shop is looking a little bare right now, isn't it? Late winter is the time when the shop stock is the lowest – producers in Alberta will start shearing in March, and some of them all the way up until late May or June depending on everybody's schedules.
Wool (and especially local wool) is a seasonal product – much like trying to find peaches at the grocery store in late September, there's one time of year that it gets "harvested" (so to speak). Fortunately for us wool has a longer store date than peaches, but once a particular fleece is gone, it's gone.
So that's kind of where we're at right now with the shop, and why it looks a wee bit bare.
There's also a bit of a change coming – nothing overly drastic or earth shattering, but I'm going to focus a bit more on washed fibre this upcoming year. I'll be doing my rounds to farms and picking up all those lovely fleeces, but I'll be washing a lot more of them to offer to you guys. But never fear, for those of you (like me) that love to process right from raw, I'll still be offering raw, unwashed fleece as well.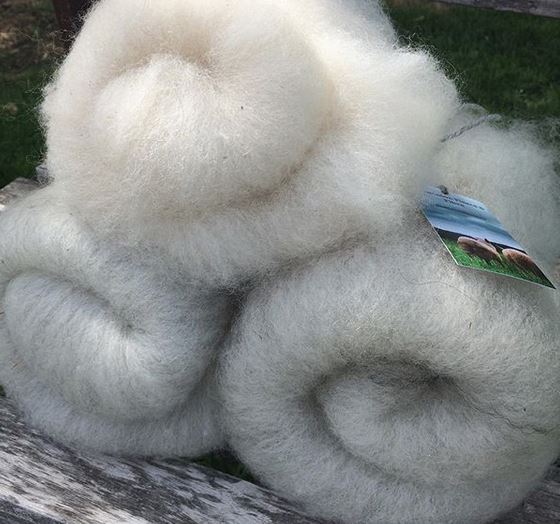 I'll also be having more prepped fibre this year, yay! I offered some of these last year at the Edmonton Fibre Frolic, and the batts were a huge hit. These will be coming closer to late spring/early summer. After I get the fleeces I scour and process it all myself, so it can take a bit more time to get those ready.
I will also be vending at the Edmonton Fibre Frolic this year again. This is my one show a year, so if you have a chance please come on down and say hello. It's also an excellent opportunity to actually feel the wools in the shop, and I'm always up for a chat about spinning, processing, or wool in general.
And, finally, I have plans to offer a very (very!) limited selection of my botanically dyed, 100% Canadian grown and milled yarns this year. I'll have a small selection with me at the Fibre Frolic, but there will also be some available on the website within the coming months.
---
So there's the quick and dirty update about the shop in the next year. I've always dubbed this little shop "a hobby that pays for itself". It's always been my goal to raise the profile of Alberta wool, and get as much of it out there to you guys as possible. But this is a project/hobby more than a business, so it can take a bit longer than I planned to get the updates up. If you want to be kept up to date on what's added to the shop and when, I highly recommend joining the mailing list – that's where updates get put out first.
Second to that is my Instagram account. I'm quite active over there, sharing mostly what I'm working on, but I do post shop updates as well.
And, of course, if you're looking for something specific (or remember seeing something from the shop previously you'd like to get your hands on), now is the time to let me know! I'm more than happy to do specific pick ups for people if you have something you really, really want. Just shoot me an email and we can set something up.
Until next time!