March has been a bit rough, hasn't it? I know a lot of people are struggling. I'm fortunate enough to work from home on the regular, so in terms of states of emergency and distancing there hasn't been too much disruption for me that way. Some of what I do in my regular job is limited because certain businesses are shut down/limiting access, but thankfully that hasn't totally stopped my ability to work.
March was rough for me for a very different reason. On the 17th we had to say good bye to our dog, Nicky, whom we rescued in 2008. She was 17 years old, and led a very long, good life. Losing her was (and still is) hard. It's left me in a bit of a haze honestly, so the past few weeks I haven't been quite as up and at 'em as I normally am. I've been working slowly on projects though, finding comfort in what I have been working on.
While we worth through our grief, the silver lining is that we can now offer a spot in our lives to another dog in need, and when the time is right we'll do that.
Hand Spun Hap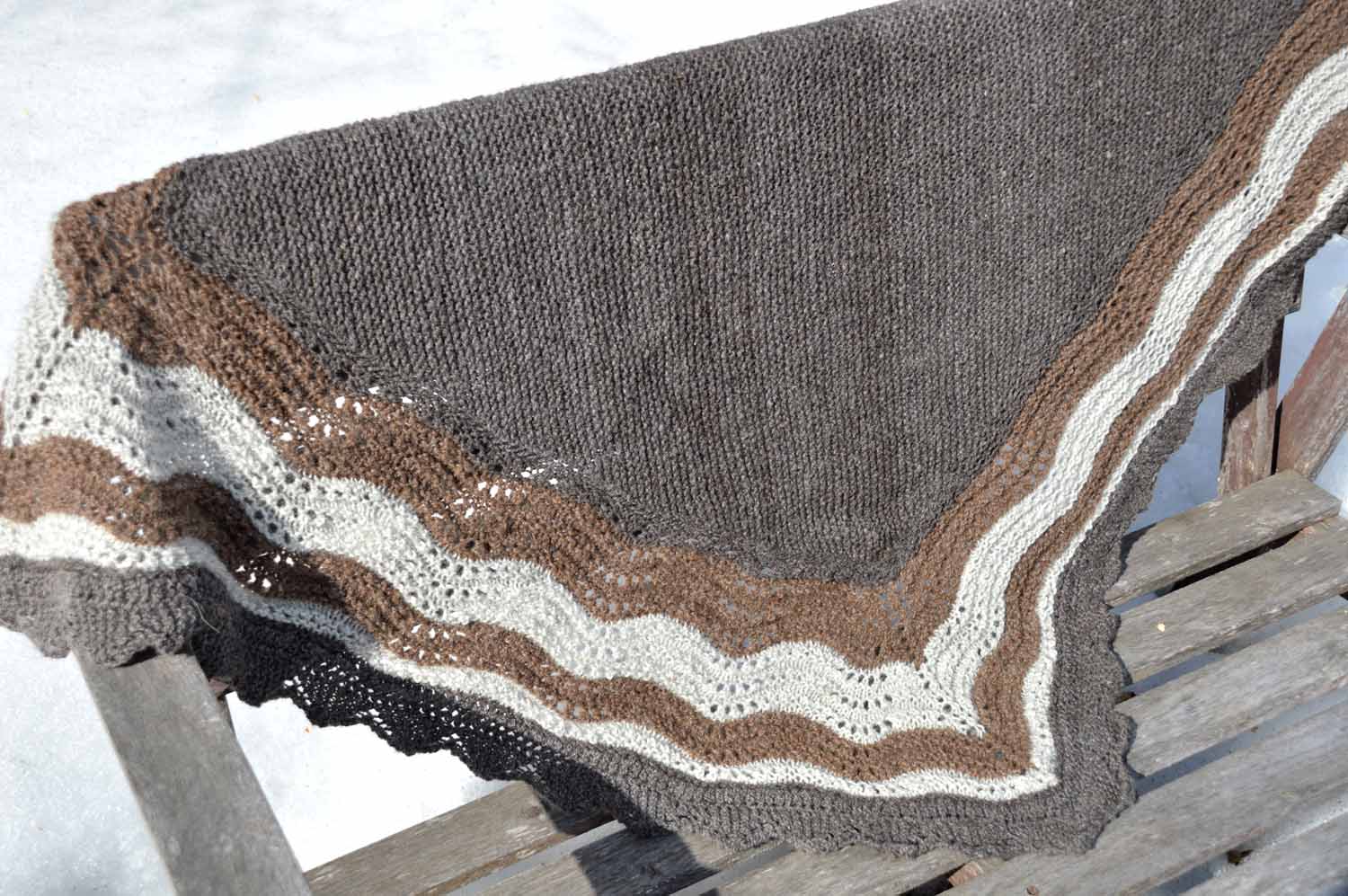 See, I told you last month I'd have this hap all done and ready to show off for March
I actually finished this quite early in March, and I literally had just a few yards left over of my yarns when I was done. I was getting real nervous as I was working the edging, let me tell you. But somehow (magically) it all worked out, and there's something so satisfying about not having tons of left over yarn.
The dark brown (a Jacob/Shetland cross) and grey (Icelandic) were from fleeces I processed myself. The moorit (Shetland) in the old shale lace work was from roving from a mill here in Alberta. I hadn't originally planned to use the moorit Shetland, but I realized as I got to the border that I did not have enough yardage, and I'd have to bolster it up. First I thought about spinning more, but then I realized I had these two skeins I had spun in 2018, and although they were a bit heavier weight I thought it would work (and it did!).
All together the hap is about 60″ to each side, and used 1370 yds of yarn. I'll be writing a specific blog post all about this hap, detailing my step by step process from washing to spinning to knitting. I hope to have that up for you in later April.
Juniper sweater
Back in 2018 I spun and knit my Juniper sweater (which I talked quite a bit about here and here). Since then I hadn't worn it as much as I was anticipating. I love everything about this sweater – from the spinning, to the yarn, to the pattern. What I didn't like so much about it when I was done was the neck line. I had actually adjusted it from the pattern originally, since it used a folded over 1×1 rib. I changed it so it was just a very simple, small i-cord bind off.
I have a thing with things around my neck, in that I just don't like things touching it. Doesn't matter if it's soft wool or rougher wool (or silk or cotton or any other material for that matter) – if it touches my neck I pull at it constantly. So my simple i-cord bind off hack had just changed it from a tighter rolled collar to a kind of boat neck. Which I didn't like either.
So, this month I took my sweater, carefully unravelled the arms, unravelled the lace portion, and re-knit it to be a really basic crew neck, with a simple (non folded) 1×1 rib.
One of the things I really like about this pattern is the ability to wear it front to back as whims dictate, but that wasn't going to be possible with a crew neck. So, I picked a side, and the lace became my new dedicated front.
While I'm sad about losing that back-to-front capability, I know I'll get 100% more wear out of this sweater now, which is the ultimate goal.
51 Yarns
I'm running a little behind on the Wool 'N Spinning 51 Yarns spin-a-long. This month was to be fractals and gradients, but alas, I haven't even begun working on my gradient. I specifically want to prep that one myself, and with our chilly weather and my work space being in the garage, it's still a bit too cold in there for me to want to stand out there weighing out and carding fibre. With April right around the bend I'm hoping to seriously catch up on some prep work I'd been planning for months (including my 2020 Sweater Spin).
Fractal 3 ply
I'd spun several fractals in 2019 as I force myself to get more comfortable with colour handling. While natural sheep shades will always be my first love and go-to, I'm glad I took this leap to add to my spinning repertoire. Because I'd done so many 2-plys I decided to go with a 3-ply for this particular spin. I had some lovely West Cost Colour Falkland in the colourway Magpie (I have a particular affinity with magpies and corvids in general, so when I saw it I snapped it up), and felt it would lend particularly well to a 3-ply fractal.
I have a good amount of this yarn – 235 yds, and I think pairing it with a natural white would be especially lovely. I'm leaning towards some kind of shawl, but I have so many other things on the go right that'll probably have to wait a few months before I even start to tackle that.