Ah March. I really love March. It's not warm yet, but it's definitely warmer, and I'll take that after several months of winter. Snow starts to melt, temperatures are routinely up a bit, the geese are on their way back, magpies are nesting. March also begins the early seed starting, so once again I have my veggies to start tending, even if they are super small and tiny.
Also, the renos I talked about last month are all done and I got my work space back in the first week of March. Yippee!! So I've actually been sewing quite a bit this month since I have my area back – experimenting with more complicated quilt blocks, and making some t-shirts and tank tops in anticipation of spring and summer.
Spinning
I've actually been working on a little project I'm really excited to talk about… but I can't (yet). I'm doing a bit of a test for a friend and a new line of fibre/yarn, and it has to be kept a wee bit secret until she's prepared to announce it. BUT I should be good to share all the details with you in April – and in fact I may even dedicate a whole post to the project.
I started spinning the project on March 10th, finished on March 15th, then started knitting on March 20th and finished on the 30th. Twenty days is a pretty good turnaround for a whole project, and I was super motivated to get it done.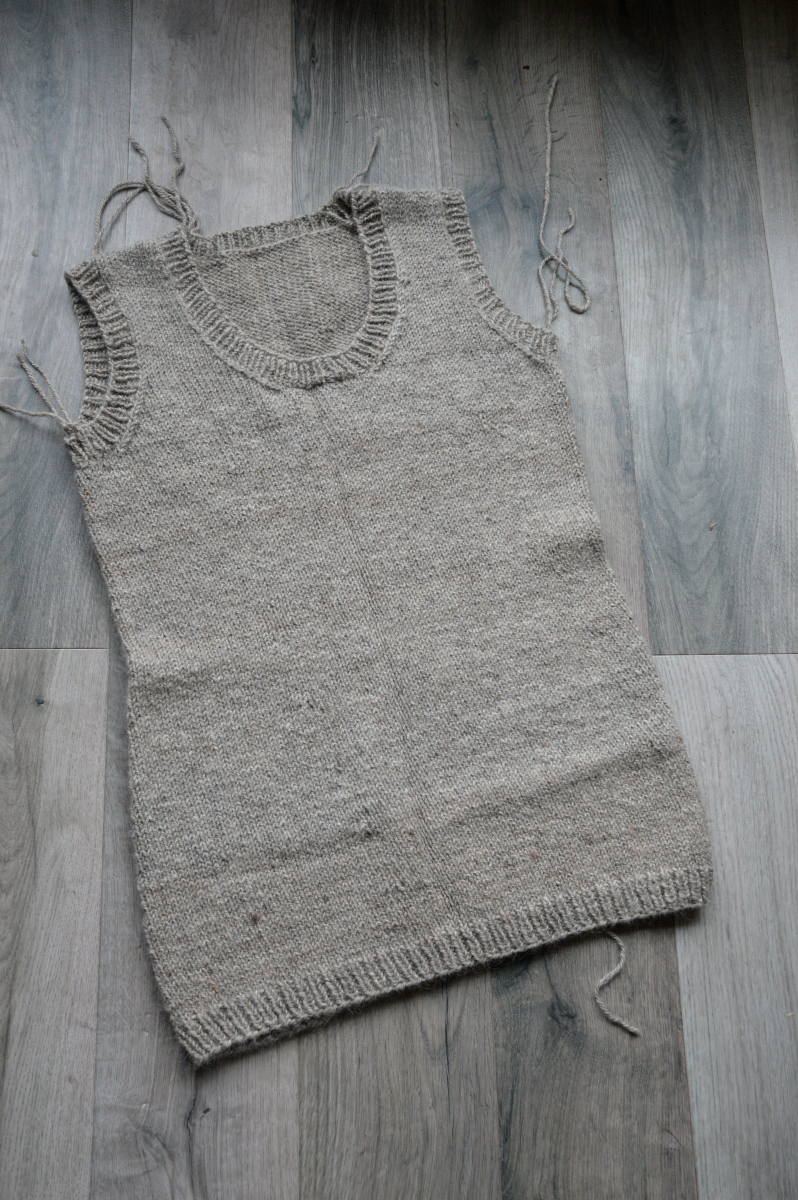 Handspun Knitting
The Icelandic/alpaca/BFL vest I've been knitting hit a bit of a snag. I finished it up (yay!), and tried it on. The body was really large (as I expected), but went ahead and blocked it. When I say the body was large, I mean a good six-plus inches of ease, which is a lot of ease for me. After blocking, however, the ease settled and turned into about four inches – still a little big because I generally knit with about 0-2″ – but totally reasonable. But what had happened is all that ease in the body stretched out lengthwise and the vest became long. Very, very long. Dress-length long. It's probably a good six inches longer than I need it to be.
I'm a swatcher. Any project where sizing matters (garments, toques, gloves, etc.), I swatch unless I'm really, really familiar with the yarn. I find especially with handspun, which will never be the same, it's imperative to me to swatch. I know a lot of people will skip that step, even with sweaters (the idea of which horrifies me), but I'd say on the whole my swatch will translate very closely to the finished project. But not so much this time.
This yarn is heavy. With the alpaca and the BFL, since they're both heavier fibres with less bounce factor, that wasn't too surprising. That is I think what went wrong between my swatch and the vest. The sheer weight of the fibre pulled all that fibre down, and created the dress-length vest I now have.
I knit this bottom up, and I am not going to rip it out to shorten it. Just not happening. So, in April I'm going to perform a little sweater surgery. I'm going to mark about one inch up from where I'd like it to end, cut the bottom of (gasp!), then re-knit the 1×1 rib trim.
I'll take photos of my whole process and post with my April Fibre Notes – I actually haven't had to do something like this in a really long time.
I will say, the yarn is absolutely gorgeous, and I'm so glad I got something done with it. I actually ended up with quite a bit left over too – the whole vest probably only used about 450 yds, so I likely have about 200 yds left. I'll know for sure after I complete the aforementioned surgery.
---
This is a bit of a shorter post for me than most months – but only because I can't talk too much about one project yet, and most of my other projects have been sewing related.
I find my projects definitely ebb and flow – I'll work almost exclusively on spinning or knitting or sewing for a period of time, then switch it up and go whole-hog on another textile. Talking to other folks I think we all go through these shifts in what we're making. It's nice to have a range of crafts to work on so you never feel burned out on one. Or if one isn't working and the frustration level is rising you can switch to something else. It keeps my mind clear and prevents me from getting tunnel vision.