I've been on a bit of a tear this month. Not just with projects, but with work, and with getting the garden ready for spring. But it's almost May, you say, isn't it spring now? Why yes it is, although save for a few cold tolerant seeds, I won't be planting anything outside quite yet. I do have a healthy crop of tomatoes, peppers, cucumbers, and zucchini going indoors, along with a few ornamentals, but they definitely won't be out for several more weeks – until I'm sure all danger of frost has passed.
Oh yeah, also, I have to build all my gardens and relocate one since this is our first spring in our new house. That's no small feat.
I've also been really pushing myself with quilting. Practicing on blocks that have lots of little points that need to be sewn very carefully so it all lines up. In part I've been doing this just for the challenge, but also as I prepare for my first large, naturally dyed quilt, I wanted to hone my skills on some commercial fabric. So I've been making lots of trivets for use around the house. I keep this monthly blog post pretty containted to wool, spinning, and fibre, but just for fun I'll post a photo down below of those.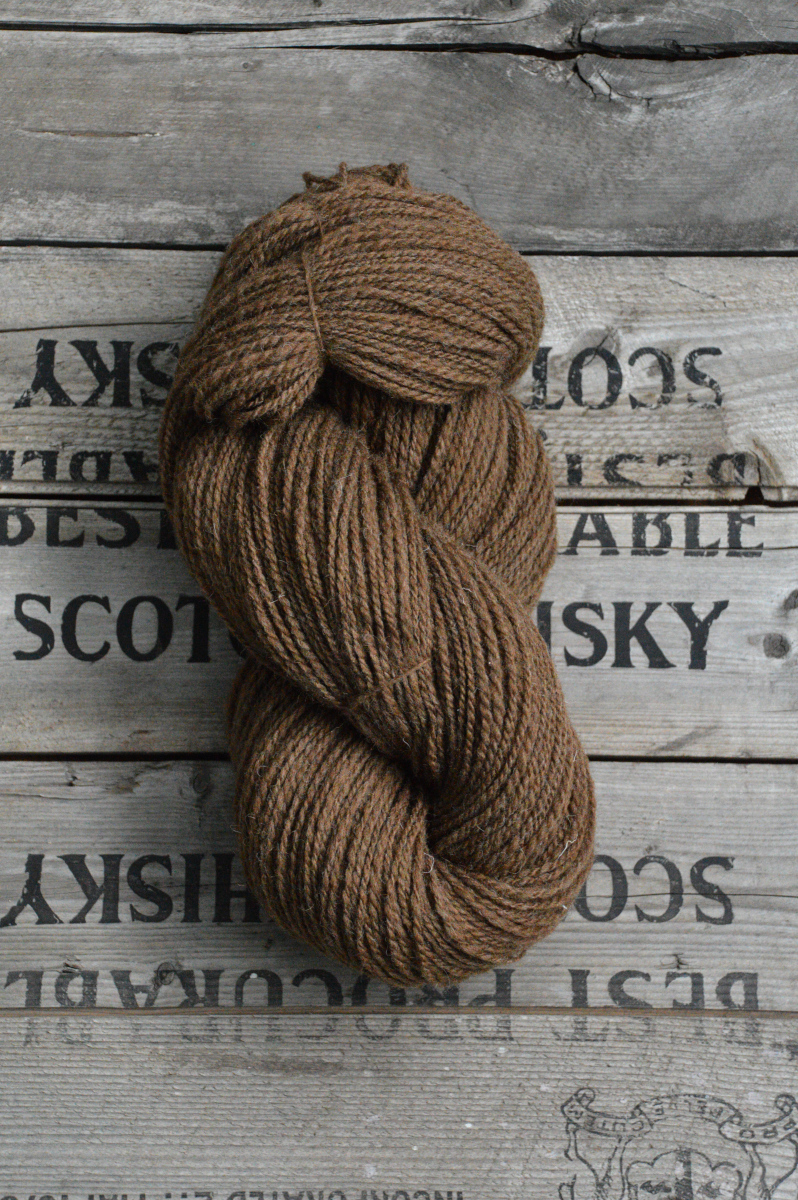 Spinning
Thanks to Marce, who has been discussing her Manx Loaghtan spin quite a bit the past few weeks, I finally got a fire under my butt and spun my Manx Loaghtan. I've had this fibre for years – which is much longer than I normally have fibre laying around (being a rabid anti-yarn/fibre stash person). I don't know why I've been holding onto this fibre for so long. Partially, I felt like I wanted to save it for just the right project, but that never materialized, with the result being I had this lovely fibre just sitting around for years on end, not doing anything.
So, enough of that. Who cares if I don't have a project in mind? I just started spinning.
I received this fibre in combed top form, but I think it's much better suited for a carded prep. In fact, if I get it in combed top again, I'll run it through the drum carder first. Being an unimproved breed, the fibre lengths vary, and trying to spin a multi-length fibre consistently from top is really an exercise in frustration. I decided to go short continuous backward draw for this spin, but even so still struggled a bit with the varying lengths.
When I pulled this yarn off the wheel it was a perfectly balanced 2 ply DK. I don't aim for perfectly balanced, but sometimes it happens (perfectly balanced yarns are overrated in my book). I soaked and snapped it, and boy did it poof up. It's now much closer to a heavy worsted/aran weight, which I was not expecting. You expect some poof, but I easily lost 3-4 wraps per inch after the finishing.
Now that it's spun, all I see are possibilities. It'd make a beautiful chunky shawl, and I certainly have enough of it. But it also just happens to be pretty close to a contrast colour for The Knitter's Dude I've been planning on knitting, and how fun would it be to incorporate it into that sweater (with some commercial yarn I already have set aside for it)?
Perhaps in May I'll figure out what I'm going to do with it, but the whole spin is a good lesson. Normally I like to spin for an end goal, but sometimes it's wiser (when that isn't materializing), to just spin and the yarn and project will present itself.
I love yarn stats, so here's the details:
Finished Yarn Weight: Worsted (approx 9 WPI)
Finished Yardage: 390 yds
Finished Grist: 961 ypp
Weight: 184g
Unfinished Yarn Weight: DK (approx. 12 WPI)
Unfinished singles: 20-22 WPI
Unfinished Yardage: 419 yds
Unfinished Grist: 1032 ypp
Prep: Combed top
Spun: Short continuous backward
Handspun Knitting
I still haven't gotten the official go-ahead to post my super secret project for my friend Katrina, so here's a teaser photo, and that's all am I gonna say.
In other handspun knitting, I finally took the plunge and did my surgery on my Icelandic/Alpaca/BFL sweater vest that I talked about in last month's Fibre Notes. I ended up cutting off a good 4-5″, which is a pretty hefty amount, but I'm glad I did it because I just would not wear a vest that was halfway down my thigh.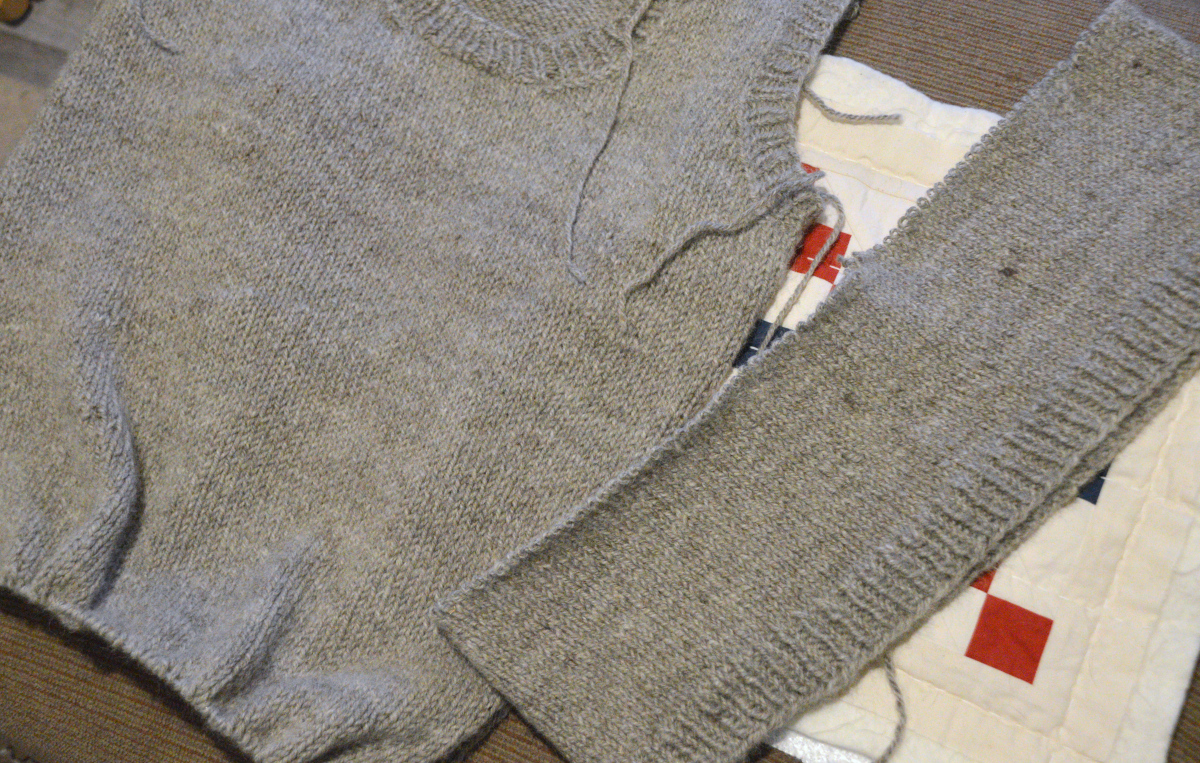 While I don't normally do knitting tutorials on this blog, I'll be posting a little tutorial as to how I did this in a few weeks. The thinking being, since knitting with hand spun can often give you vastly different row gauges than commercial yarn, it's handy to know how to do this kind of surgery if you're knitting a bottom up sweater with hand spun and find yourself with a dress after you've blocked.
Natural Dyeing
I have finally finished dyeing up all the Cheviot mill spun! Hallelujah! Ee-gads! Zoinks! Because I'm finally done, here's a photo of some of the colours that will be available in May when the listings go live.
Indigo was the last step, which I finally did in the third week of April during a particularly nice day when the sun could keep my vat nice and warm. As I type this all the skeins (and some yardage for a quilt) are sitting and curing. By curing I mean sitting around for a bit. After I dye with indigo all fabrics (cellulose and protein alike) go into a slightly acidic solution to bring the pH back to neutral after being in the vat. After that I hang them up and let them sit for a number of days.
Why do I do this you ask?
I find it helps the indigo really settle into the fibres, and I get less bleed/crocking. There will still be some (especially for darker colours), because it's indigo which just really wants to be friends with everything, but it lessens dramatically. Once that's done, I'll rinse, rinse, rinse. And once that's done I will finally(!!) list them on the website, ready to be off to their new homes.
Fleeces!
I snagged a good amount of fleeces this month(!!). I grabbed 10 Icelandic fleeces from a farm I've been purchasing from for several years in order to make the next batch of mill spun yarn. When I got back the Cheviot in November, it really sparked my interest to make an Icelandic yarn next. I'll likely stick with the sport 2 ply structure (because I like it). While it won't be a traditional lopi yarn, it will retain both the tog and the thel, and it'll come back as an even grey (which I'm really excited to dye). This is still some months off, but there's a bit of a preview for you.